St Barbara's first church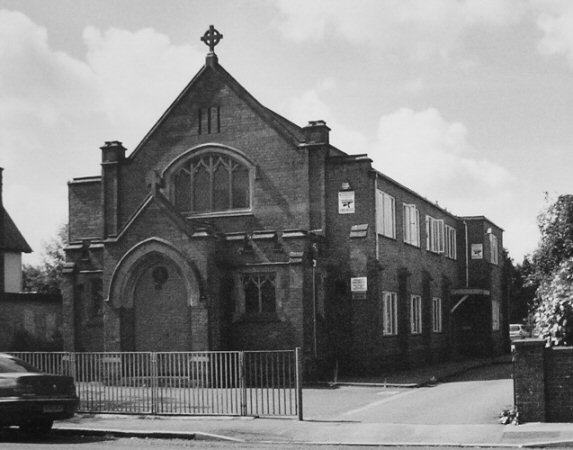 From its beginning in 1852 industrially Earlsdon was well catered for, but until the Methodists opened their chapel in the old weaving shed in 1873 there was no place of worship. Although it was part of the parish of St Michael (later the Cathedral) the estate was in the 'care' of St Thomas's Church in the Butts (now demolished). A curate from St Thomas was detailed to attend to the spiritual needs of Earlsdon residents.
It was not until the arrival of Rev Eric Farrar in 1893 that there is any evidence of Anglican activity in Earlsdon, when he sets up a mission and Sunday School in the new day school on Earlsdon Avenue North. The construction of Albany Road in 1897 made communication between Earlsdon and the church easier, whilst at the same time it led to a huge growth in population making the need for a new church more urgent.
The Methodists had already bought the prime site on the corner of Albany Road and Earlsdon Avenue South so the Anglicans looked to a plot on the corner of Palmerston Road and Rochester Road. A committee was formed, a meeting held at the school in 1910 and efforts made to raise the money to begin construction.
A local architect, TIR Meakin was appointed and construction began in 1912. Due to economies the internal design was sparse but the building was finished and dedicated on 4 December 1913. Because it was St Barbaras Day it was decided that this was an appropriate saint to whom the church should be dedicated.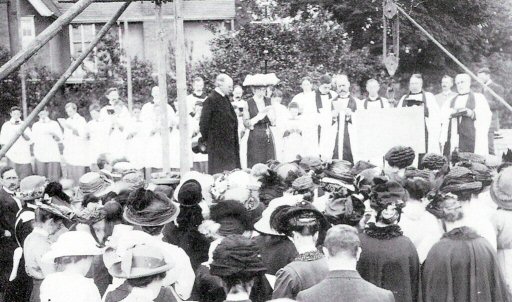 Laying the Foundation Stone, 16 June 1913
By 1922 Earlsdon finally qualified as a parish in its own right and the congregation was rapidly outgrowing the church building. So much so that it was decided that a new and bigger St Barbaras was needed. A building fund was opened again and a site identified at the corner of Rochester Road and Beechwood Avenue. The new church was opened 26th September 1931 and the old church became a church hall until the opening of a new church hall in 1971.
For a period of time the old church was converted to office space before its eventual demolition and replacement with flats.