The Tubular Bell Foundry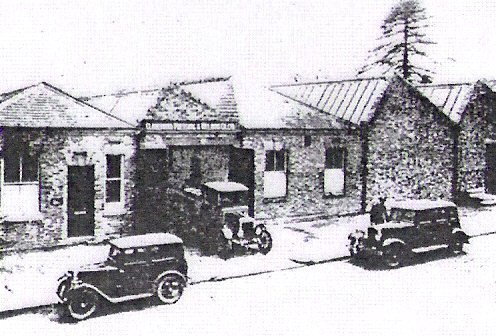 Clarendon Pressing and Welding Company on the site of the old Bell Foundry
Harringtons started making bells in the Butts in the 1890s, moving to new more spacious premises on Clarendon Street, Earlsdon in 1900. They made bells suitable for all purposes varying in size from large ones suitable for churches to small ones for use as door chimes. According to their advertisement the bells consisted of metal tubes suspended from a wooden frame. "They are harmoniously tuned and when struck give forth notes of marvellous purity and sweetness of tone, the larger ones comparable with church bells of very high quality". The most important factor, of course, was that they cost a fraction of the price of conventional bells. They had to be thoroughly tested and tuned. Harry Weston, one time mayor of Coventry remembered hearing them with pleasure. He had been born on the opposite side of Clarendon Street and spent his early childhood there.
The First World War had its effects on Harringtons as it did on so many businesses and by 1920 the firm moved to smaller premises on Hearsall Common. The Clarendon Street premises were soon taken over by other manufacturers and the 1920 Trade Directory tells us the site was shared by the Caesar Cycle Co, W Jones Cycle and Motor Exporter and the Stelfen Belt Co Ltd. However the cycle boom was over by this time and the premises was soon taken over by the Clarendon Pressing and Welding Company Ltd. The Clarendon made parts for motorcycles and later for the new motor car industry and for the textile company Courtaulds. The advertising leaflet of the early 1930's states "We shall be glad to submit a quotation on receipt of blue prints or samples or we would call and discuss any sheet metal problem you may have for a solution". Their lorries turning in and out of Clarendon Street became regular sight until 1962 when Clarendon Press joined James Motorcycles of Pershore.
It was in 1962 that DBS moved into the premises. Formed in Kenilworth as Direct Bedding Supply they first moved to Broad Street before arriving in Earlsdon. Once they arrived the business expanded quickly and remained in Clarendon Street until 2010. The site is now vacant and awaiting redevelopment.