The Co-operative Store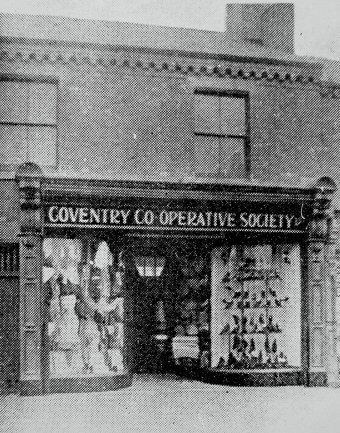 The first Earlsdon Co-operative store
The Co-operative store was the first purpose built shop to appear on Earlsdon Street. Opened in 1896 it was soon evident from the amount of trade it was attracting that a much larger premises would soon be needed. The large site on the corner of Earlsdon Street and Poplar Road was still vacant, so this was bought and in 1906 a quite imposing new building was constructed and opened as the new Co-op. This was quite sufficient for a few years, but the Co-op, ever aware of new market trends realised that there was room for expansion.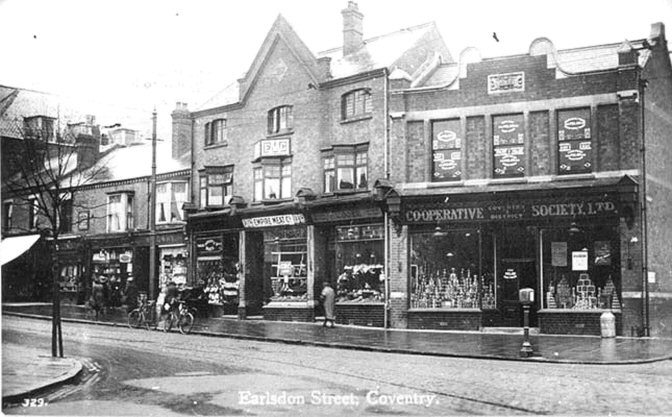 They began by taking over a butcher's shop on the corner of Moor Street and Earlsdon Street in 1930 and this was followed by the chemist in 1936. In addition to these they took over a shoe shop, drapery and mens wear shop in the original premises and a wet fish and greengrocery department.. At one time they had six different businesses in six different premises. This was inconvenient and far from economical and by 1979 plans were made for a complete reorganisation.
The area they had owned since settling in Earlsdon Street in 1896 was cleared, a new building erected there which opened in May 1981. The pharmacy, shoe and drapery departments were relocated to the city centre store and the large corner premises, now no longer needed was taken over as a bedding store.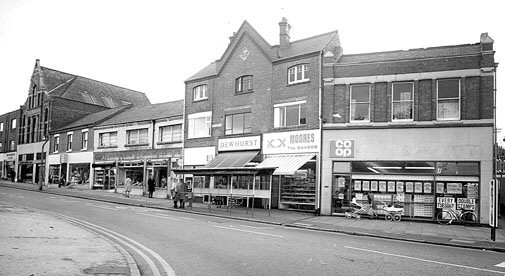 The Co-op in 1974
The move unfortunately put and end to Earlsdon's claim to its unique 'ation' corner of Damnation, Cooperation, Education and Salvation, in other words the City Arms, Co-op Store, school and library and Methodist Church, each building situated on each of the four corners of the crossroads.