John Moore's House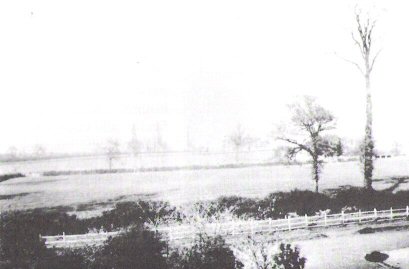 The view from Elsdon Lane towards Coventry
Coventry folk who wandered along Elsdon Lane (now Earlsdon Avenue) in the 1830s would have noticed a handsome new farmhouse nestling in the fields nearby. It had been built by John Moore, Coventry farmer and butcher, on his little estate of 6 fields or closes as they were known locally, covering an area of 31 acres, lying between Elsdon Lane and Whor Lane (now Beechwood Avenue). Two of the closes, Barn Close and House Close, were arable, for crop growing, the rest, Big Ground, The Slang, The Close at Elsdon Lane and Far Close, were pasture, where Moore grazed his cattle. He named his house Elsdon Cottage, but considering the substantial size of it this would seem to have been a misnomer.
John Moore was a businessman and apart from his butchery and his farm he also owned a brickworks, so that when he died in November 1846, aged 80, he left quite a large amount of property. His wife had died some years before and because they had no children, his family of several brothers and sisters, nephews and nieces hoped to benefit from his will. But John Moore seems to have been a cantankerous individual, easily upset and several codicils to his will made sure that a number of those who expected to be beneficiaries, including the person he called his 'so-called brother', were extremely disappointed. His housekeeper, Elizabeth Darby, did well though, receiving linen, china and furniture.
His estate at Elsdon was sold by auction on 1 May 1847, the successful bidder was William Pickering, a Coventry Cow Dealer, who paid £3,215 for it. However he didn't keep it for long, selling it 5 years later to the Coventry Branch of the Freehold Land Society who had plans to develop the site, for £4,000, a nice little profit for Pickering.
The hedges of John Moore's 6 little closes were grubbed up and the area levelled and laid out into eight streets. A water supply was laid on from the Artesian Well at Spon End together with a drainage system; 250 building plots were marked out and the nucleus of residential Earlsdon was born. The farmhouse, sold to Mr East, a city Publican, was now converted into a pub, the Bowling Green, complete with a brewhouse, bars, tap room, skittle alley and bowling green. East converted the barn into a ballroom and dining room, large enough to seat 150 people and installed a Mr Burberry as licensee. Although two or three public dinners were held there, the pub didn't attract enough customers to make it pay and it had to close. It was put up for sale again in 1854 and bought by yet another Coventry butcher, Michael Adams.
For almost the next 70 years it remained a private house, rather pretentiously known as the 'Manor House', until the early 1920s when a local wholesaler, Herbert Wakelin bought it, converted the house into two cottages and used the barn as a warehouse. When he died his son Eric took over business, also buying the house fronting Moor Street where he and his wife lived until his retirement in 1971.
The next owner of the property, Paul Johnson, ran a very successful business 'Flexwheel' there, producing industrial contact and polishing wheels. Sadly, Paul saw fit to have the old house demolished to make room to expand his factory, and it was while this was going on that a workman, digging a trench for a new drain suddenly hit a large stone with his pickaxe. When he moved it to one side, he nearly fell down an 80 foot shaft. He had discovered John Moore's well, cut through the solid sandstone. It has now been safely capped, but there is still water at the bottom.
So that is all that remains of John Moore's farmhouse. When the Earlsdon streets were named in 1852, naturly the street fronting the old house was named 'Moore Street' in memory of the old man, although for some reason the final 'e' has been lost over the years as so it is easy to forget the connection.