Earlsdon's first shop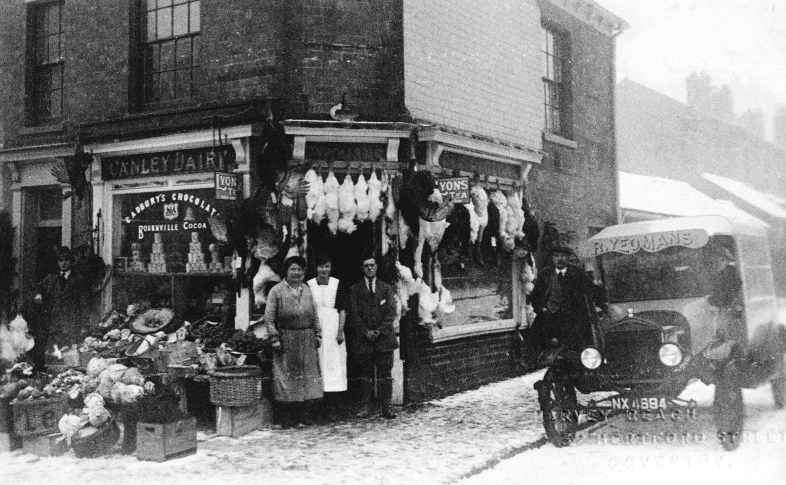 Earlsdon's first provision shop later became a dairy store in 1924
For over a hundred years Earlsdon has built up its reputation as a first class shopping centre, developing, constantly changing with the times, but always dependable for the high quality of goods on offer. Like Earlsdon itself Earlsdon Street has grown up from nothing, indeed from 1852 to 1860 there seems to have been no thought of providing any sort of shop, although the desire for one on the part of the early settlers, particularly housewives, must have been there. Admittedly a few provisions, possibly candles, flour and tea, were obtainable from the pubs already established, and butter, milk and eggs from the local Earlsdon farms. Anything else meant a trek to the shops in the city. Until mid 1860, when a Mr Samuel Ward took advantage of what he saw as a golden business prospect and opened a provision store, Earlsdon's first shop.
The site he chose was on a corner naturally, that of Moor Street and Warwick Street, and local people watched impatiently as the builders got to work and the shop gradually took shape. The shop itself stood squarely on the corner, flanked on Moor Street by a dwelling house for the owner or manager, and on Warwick Street by the bake house, storerooms and stables.
Samuel Ward, now in his early 50s, had been a well established baker and provision merchant in the city, so he was already well aware of the sort of supplies that were needed. While he saw to the baking, his wife and younger sister managed the shop. What a relief it was to the locals now they could buy freshly baked bread every day, had the choice of so much else besides and, as a bonus, now had somewhere to meet neighbours and exchange gossip.
When Samuel's wife died in 1862, he married again and after his own death seven years later his new wife carried on the business until 1880, when she sold out to Frederick Poole. This gentleman had a thriving provision store in Fleet Street in the city, which he continued to run, appointing John Shemens to manage the Earlsdon store.
It is surprising to note the variety of goods on offer at these two stores; for instance in 1889 Poole was advertising teas from Ceylon, India and China; sauces, pickles and preserves from France and Italy; hams and bacon from Wiltshire and America; Gorgonzola, Camembert, Cheddar, American and Old Warwick cheeses; Danish butter, eggs, potted and tinned meats; canned salmon from North West Canada, fresh herring from Scotland; Huntley and Palmer biscuits; New Zealand mutton and lamb; Luncheon tongues from Chicago; all kinds of fruits from America and much more.
The Earlsdon shop must have seemed like an Aladdin's cave to those early shoppers. It certainly set a high standard for all the shops that were to come later. At one period, from 1905 to 1910, it also served as Earlsdon Post Office.
The property stayed in the Poole family until 1923, when it was sold to Robert Yeomans of Ivy Farm, Canley, who naturally concentrated on the dairy side of the business, but by 1920 many other shops were opening in Earlsdon Street itself, including the Co-op, which had expanded from its tiny shop on the site of the present store opened in 1896, to the larger premises on the corner of Poplar Road, so now there was a lot of competition.
So the shop having supplied Earlsdon folk with provisions for over 60 years closed, underwent a dramatic change and opened as a shoe shop, a commodity not yet on offer in Earlsdon Street. The new owner was Mr Brough, a maker of boots and shoes of very high quality to order. Mrs Brough, later assisted by their daughter, managed the shop, selling all sorts of footwear from football boots, to ballet shoes and slippers and everything in between, made by all the leading makers.
So it remained until 1981, when Mr Brough having died some years before, Mrs Brough retired. It then passed through several different unsuccessful phases as a gift shop, printers etc, until now when it serves as a charity shop and the local Samaritan Centre.