Clarendon House and Westwood House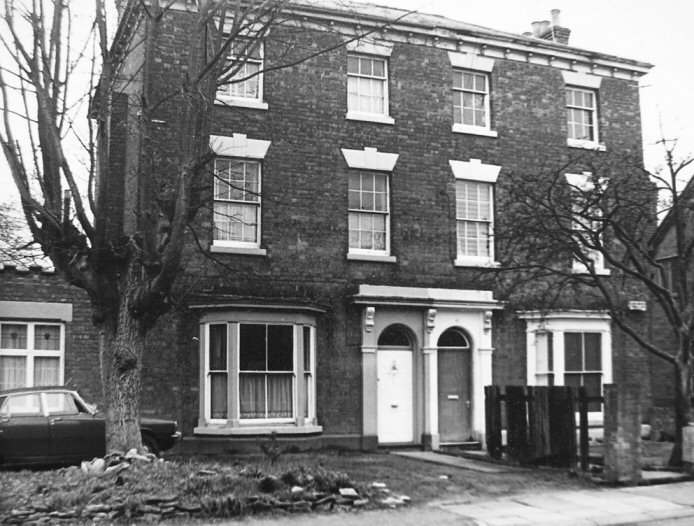 Clarendon House and Westwood House in 1978
According to the 1861 Census there were 146 men engaged in the watchmaking industry in Earlsdon at that time. This was out of total of 159 men over the age of 15 who were living in Earlsdon. One of those watchmakers was Joseph Richardson a manufacturer and son of William Richardson, also a manufacturer. Together they bought two plots on Clarendon Street as soon as they became available and built adjoining three storey houses. By the 1880's the Richardson's were at the top of their trade and following the death of both father and son another generation took over the business. Following the death of Mary Richardson (Williams widow) Westwood House was occupied by Alfred Herbert, later Sir Alfred, soon after his move from Leicester to Coventry. He didn't stay long but retained a long affection for Earlsdon and its church of St Barbara to which he donated a large amount of money.
Eventually both Clarendon House and Westwood House returned to a watchmaking family, this time the Hammonds, but this family were experiencing financial difficulties as the trade was in decline. Again, both houses were vacant by 1904.
The next occupants were Albert Staley, a mining engineer and his family and William Spencer, who had a ribbon factory in Earl Street. According to an account left by his granddaughter, Mrs Davis Brown, Westwood House (and undoubtedly Clarendon /house also) 'although semi detached, was quite pretentious and furnished in lavish Victorian style, all red plush and mahogany', This family and the Staleys were there for about 14 years until after the Staleys deaths the Gibberds moved in.
Before the move from their Spencer Avenue house could be made, an extension was required for the family of seven. It was while this was going on that one son, young Frederick Gibberd, realised what the function of an architect was, decided that was to be his profession and indeed became a most eminent architect, designing many important buildings, including Liverpool RC Cathedral, Harlow New Town and many other projects here and abroad.