Earlsdon House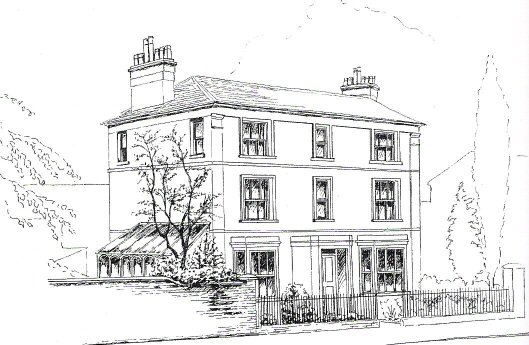 Earlsdon House still stands on Earlsdon Street but is hardly visible now. It was built in 1852 by John Flinn and is thought to have been the first house to be built on the newly laid out Earlsdon estate. Flinn was a watch manufacturer from Liverpool who moved to Coventry in 1827. As well as a Councillor he was also a member of the Coventry Branch of the Freehold Land Society, the estates developers. This meant that when the FLS developed the Earsldon estate in 1852 Flinn was in a good position to choose a prime site for his Earlsdon House. It was built as a typical solid Victorian double fronted villa, with five bedrooms and two large attics. There was also a substantial workshop attached where Flinn carried out his watchmaking business.
This no doubt attracted the next occupant of Earlsdon House when Flinn moved out in 1868. The property was bought next by Joseph White, Earlsdon's most important watch manufacturer at the time, and owner of a substantial amount of surrounding land. He lived there with his wife and large family of 12 children, carrying on his watch making business until his dearth in 1907.
The house again sold, this time to the Managing Director of the Maudesley Motor Company, Alexander Craig, although the White family retained use of the rear workshop, sharing the premises with Joseph Player and Son, also watchmakers. One of the White sons carried on the business, although the watchmaking industry was so much in decline now that the actual manufacture of watches played a very small part, if any, in it. Now watch and clock repair work and importation of goods was its mainstay.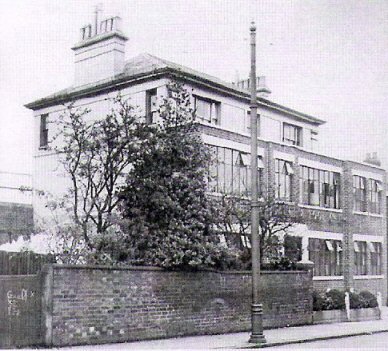 Fronting Warwick Street a tin shed had been built on the old paddock which had reputedly been used at some time as a ribbon weaving workshop, although there is no material evidence to support this. In 1909 or 1910 James Thrift took it over to house his Viking Motor Body business, moving on to larger premises in 1913, leaving it to be occupied now by Walter Tatlow and his brother-in-law, Harry Harley. With a few machines and fewer employees, these two men established what was later to become the successful Gauge and Tool Company.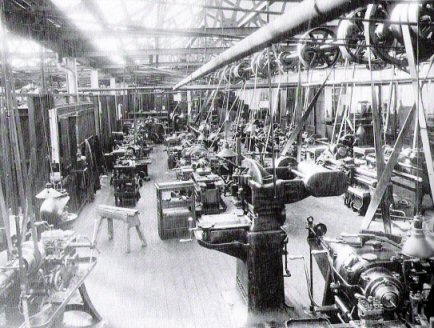 The rear workshop of Earlsdon House
at the time of the Coventry Gauge and Tool Co
It was not long however, before disagreements between the partners became so acrimonious that Harley, with help from his friends, bought Tatlow out, and under his leadership the business went from strength to strength. In a few years he had acquired the whole of the Warwick Street site and finally in 1930 had also bought Earlsdon House itself, defacing the front of this handsome building with an extension for use as offices. When he left in 1936 to go to larger purpose built premises on Fletchamstead Highway, the Earlsdon factory was bought by the Coventry Precision and Repetition Company who stayed there until 1965.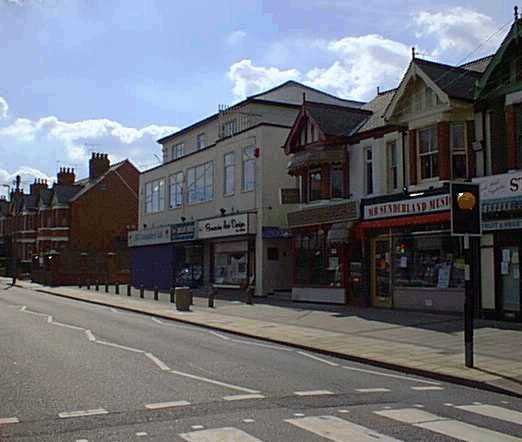 Now known as Stoneleigh House
In 1965 the house was then bought by Arthur Coopey a local builder and decorator who 'modernised' the frontage, turning the premises into two retail outlets, which is how we see it today. It is only by standing well back and looking carefully above the shop frontage, that we can see a glimpse of Flinn's original handsome old Earlsdon House.
Click here to return to the 'Millennium Heritage Trail'