Joseph White 1836-1906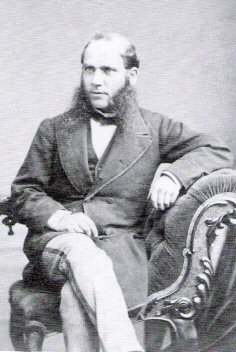 Joseph White is probably one of the best known of the 'Earlsdon Manufacturers'. He was born in Foleshill in 1835, son of a weaver, and was indentured to Chapelfields watchmaker Nathaniel Hill from the age of 14. His apprenticeship was for seven years during which he worked a 12-hour day, six days per week. In 1860, two years after his apprenticeship ended, Joseph married, moved to a small house in Mount Street, Chapelfields, and started his own business. He was thus on his way to a notable career in the manufacture of high-quality high-precision timepieces, and subsequently to remarkable achievements in other areas as well, including bicycle production, land development and (through one of his sons), engine manufacture (White & Poppe).
His watchmaking business prospered and after a series of house moves, each one 'upwards', he
eventually bought Earlsdon House, Earlsdon, together with a row of workers cottages. All this at the age of 32. The British watchmaking industry was now nearing its peak, and by the 1870s Coventry was producing two-thirds of all timepieces made in Britain. Joseph White was specialising in the higher quality sector of the market, striving always to meet the most exacting demands. His company regularly entered watches and chronometers for the rigorous timekeeping trials organised by the Greenwich Royal Observatory and the Admiralty, and consistently featured high in the tables of performance published by both. In 1911, in fact, a White watch was placed first in trials by the Admiralty. The highest quality watches made by White incorporated the famous tourbillon device developed by Breguet and designed to compensate for variations in timekeeping which occurred when a watch changed its position from vertical to horizontal.
But the British watchmaking industry was coming under increasing competition from abroad. Import tariffs were being abolished, and the USA in particular was 'automating' watch production, introducing interchangeability of components, and by launching the 'dollar watch', for example, was bringing a pocket timepiece within the reach of all. White continued to produce the highest quality watches but his business acumen also made sure his Company diversified, firstly by taking an interest in Coventry Machinists Works (later Swift Cycles), and then by buying land in Earlsdon and developing it for upmarket houses.
White had 12 children. In 1899, one of his sons, Alfred James White, went into partnership with Peter August Poppe, to found White & Poppe, and Joseph was involved in that venture as well. W & P went on to prosper. At its peak, the Company was producing petrol engines in very large numbers for use by a number of world-famous car makers. After World War One,White & Poppe was bought by Dennis Brothers, Guildford, and in 1926 Harry Harley (later Sir Harry) bought Joseph White & Son and with it Earlsdon House. Harley eventually discontinued watch manufacture, and Earlsdon House became the HQ of his own company, Coventry Gauge & Tool Ltd.
Joseph died in Somerset but his grave is in London Road Cemetery. His business Joseph White & Son continued in Earlsdon Street into the 1930s as watch and chronometer makers.
From Brown Boots in Earlsdon by Mary Montes