The Old Nail Factory (The Allard Works)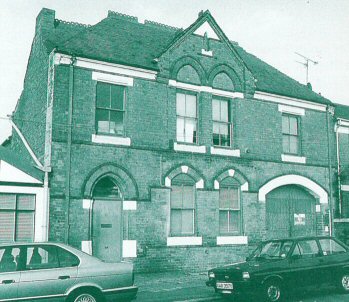 The Old Nail Factory before renovation
In about 1885 a William Pitt took possession of a plot of land in Moor Street, built a small factory on it and proceeded to make nails., There is very little in the archives to tell us who Pitt was or where he came from; he only appears once in the Coventry trade Directories, that is for 1886, and why he chose to build his forge in Earlsdon remains a mystery. That it was a bad choice is obvious from the following extract from the minutes of the Coventry Rural Sanitary Authority meeting of 20th July 1887:
"A letter was read respecting a notice served on Mr Pitt to abate smoke nuisance at Earlsdon and the clerk was instructed to reply to such a letter and state the nuisance existed and it was for Mr Pitt to do away with or abate it, or otherwise proceedings before the magistrates would be taken. Mr Hulme had reported the nuisance on 6 July."
John Hulme, a highly respected and active resident in Clarendon Street, was acting as spokesman for all the other residents, in particular the ladies. The chimney taking the smoke from the forge, to be effective needed to be a certain height, and Pitt's which we estimate to be some 20ft or so, was obviously not tall enough. The smoke blew down continually, particularly when the wind was in the wrong direction, a nuisance every day of the week, but on Mondays when the local ladies hung out their washing, it was disasterous. No matter how white it was when it was first put on the line, it was soon covered in black smuts from Mr Pitt's chimney.
Whether further proceedings were taken against Pitt or not we don't know, but he left the area and apparently left Coventry. Local directories list no William Pitt, nailmaker, again. It was not long however before the factory was occupied again, not a nuisance this time, but an asset, giving employment to local men.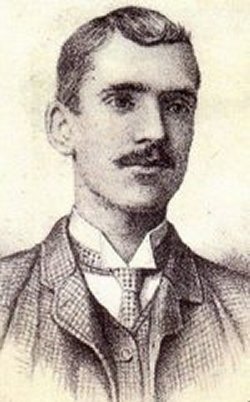 Fred Allard
In 1890 a young man, Fred Allard, with a new wife and baby boy (Fred, the baby boy, grew up to be chief designer at Armstrong Siddeley) moved into a cottage in Warwick Street. Fred, as a professional cycle rider had been drawn to Coventry from his native Northampton because of the cycle industry which was booming at this time. It was natural that Fred with such an interest in cycles should want to build models to his own design and specifications, and there at 38 Moor Street were the ideal premises where he could do just that. The Allard Cycle Company enjoyed a good amount of success.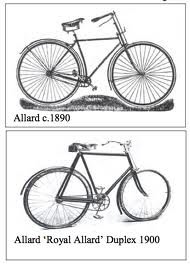 Fred obtained the steel tubing for the cycle framework from a Birmingham firm, Tubes Ltd, later Tubes Investments, where managing director was William Pilkington. Pilkington took an interest in and recognised the potential of young Allard and joined him in Moor Street; together they began to produce cycles, not quite mass production, the premises were not big enough for that, but in large enough quantities to make their mark.
By this date the internal combustion engine was becoming more viable and adaptable and Allard and Pilkington began to fix small engines to their cycle frames, gradually developing them until sturdier and more powerful they became recognisable and highly valued motor cycles. The first Allard motorcyle was produced in 1899.
In 1902 Allard Cycle Co was formally merged with Pilkington's Birmingham Motor Manufacturing Co and the joint venture became the Rex. Following the merger Fred was to move to Birmingham to work in Pilkingtons major business there.
But production had now outstripped the capabilities of the old nail factory, and Pilkington looked round for larger premises. He found them in the newly developed Osborne Road, a continuation of Providence Street. New machines were bought and installed with more hands to operate them, and by 1903 the move had been made and production in the new 'Earlsdon Works' at Osborne Road, was in full flow with the old Moor Street Works being phased out.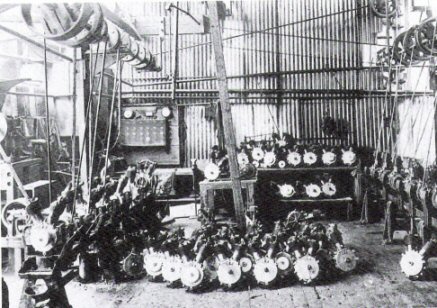 Rex Engines at the Moor Street Works
From now on the Moor Street factory was to be the centre for many different businesses, mainly in cycle, motor cycle and allied trades, from Fulwell Cycle C Ltd in 1898, then Standard Cycle and Plating Co, the Calso Hood Co, Lammas Manufacturing Co, makers of the Cylo silencer, and so on.
In 2011 the empty factory was purchased and underwent a major transformation this time with an emphasis on office space and residential accommodation.